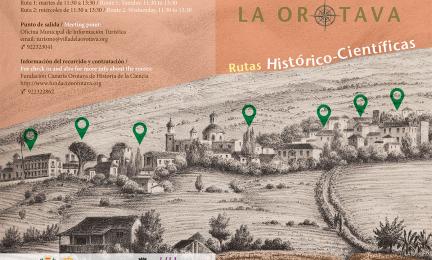 1.A) 'La Orotava and the scientific expeditions of the eighteenth and nineteenth centuries'. The fascination for Tenerife's peak, the strategic location of the archipelago and the peculiarities of its nature aroused the interest of the scientific travellers in the Canary Islands for more than 300 years. The ascent to Mount Teide, recurrent objective of so many expeditions, made of La Orotava a favourite place to stay in. We propose a walk through the history of these travellers and scientists through the traces they left in the town. This tour Includes a gastronomic tasting of local products in the 'Sabor Canario' restaurant.
            Hours: Tuesday from 11.30 a.m. to 1.30 p.m. Spanish and English.
2.A) 'La Orotava and the pulse of water'. Water has always played a fundamental role in shaping the urban fabric of Villa de La Orotava. A whole network for the use of water and several industries that have left their trace, not only in instruments and appliances, but also in the places and buildings that housed them, are closely related to this fundamental element. We invite you to visit with us the vestiges of that framework built around the water course that descended from the high areas of the valley.
            It includes a gastronomic tasting of local products at Lercaro House.
            Hours: Wednesday from 11.30 a.m. to 1.30 p.m. Spanish and English.
3.A) Routes of scientific culture in La Orotava.
3.A.1). Public Washing Facilities. La Orotava Mills. The Botanic Garden Extension.
Hours: 9:00 a.m., Wednesday.
3.A.2). Mount Teide historical measurement.
Hours: 9:00 a.m., Thursday.
The main objective of the project, aimed at secondary school teachers and students, is to present various aspects of the History of Science and Technology related to the Canary Islands. It is intended to help students better understand the history of our Islands, telling them why they were an important destination for European scientists since the eighteenth century, and explaining, in particular, some episodes of the relationship between science, technology and society that had the Orotava Valley as their main stage. Only one group per day is allowed, with a maximum of 30 people, due to the space limitations of some of the places visited.
Address: Nº 17 Calvario Street, 38300. La Orotava. Santa Cruz of Tenerife. Canary Islands. Spain.
Hours: from 9:00 a.m. to 2:00 p.m., from Monday to Friday.