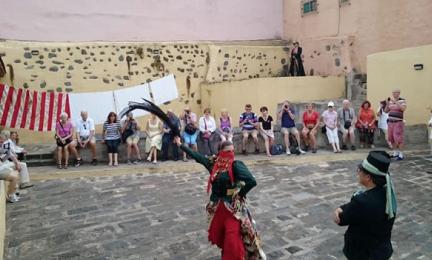 2.A) 'A place called Orotava'. The story of the play, original by Manuel Luis and Antonia Jaster, is starred by 'Orotava', who has decided to seduce visitors by showing them all her most beautiful spots and places. 'Amador', a platonic lover, pursues her in despair, because his eagerness to preserve all the stories and troubles of his beloved one makes of him her most fervent admirer. The music, the word, the dance, the charm of the architecture and the atmosphere of La Orotava's town centre allow the public to know more about its history in a surprising way. It shows a city that is alive, full of solera, intellectuality, with the attraction of the past centuries in perfect balance with modernity.
From November to April. Spanish and German.
3.A) 'The Magic Villa de La Orotava'. The tour is a real journey back in time with characters who have made history in the town. Teobaldo Power or Juan Francisco Franchi Alfaro are some of the illustrious figures that appear and give greater emphasis to events and milestones of which they were part. Thus, the protagonist 'Orotava' also recounts her experience and anecdotes in how she 'felt and lived' the granting of the titles that today continues to boast with pride, such as those of exempt 'Villa' or the one of Very Noble and Loyal town. A tasting with local produce is offered in both tours.
From November to April. Spanish, English and German.
Jaster & Luis Creations.