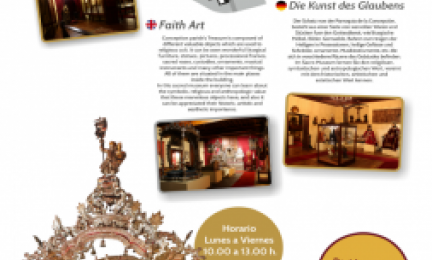 The 'Concepción' Parish Treasure is composed of a valuable set of utensils and objects used for divine worship. It has its origin in the purchases made by the parish with its own funds, donations and historical factors such as the exclaustration of the convents by the Minister Mendizabal laws, which most benefited this parish. Within this set we can highlight pieces of liturgical furniture, images, paintings, processional scaffolding, sacred vessels, custodies, song books, musical instruments, ornaments, etc. The pieces shown do not only serve their historical, artistic or aesthetic value, but also have symbolic, religious and anthropological values.
Until a few years ago, the 'Concepción' Treasure was stored as exhibition-warehouse material, in the upper rooms of the north sacristy, which once were the parish housing. At present, the Treasure occupies the main rooms of the building: the north sacristy with the anteroom and the Treasury room, the choir, the south sacristy and the chapter halls.
Considered one of the most significant collections in the Canaries, each of its pieces has religious, symbolic, anthropological, historical, artistic and aesthetic values that delight the visitor.
Hours: 10:00 a.m. – 1:00 p.m. from Monday to Friday.
Address: Patricio García Square
Phone: 922.32.69.24
(Off-hours visits can be arranged through the Facebook profile and phone number)