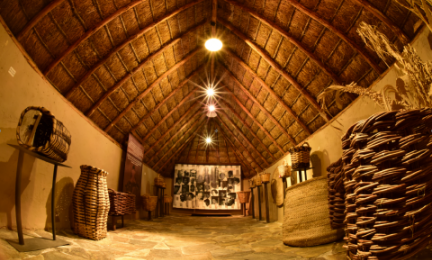 This museum opened in 2002 is located in a Villa de La Orotava peripheral neighborhood called Pinolere, and in its 3,000 square metre facility, different aspects of the architectural, agricultural, environmental and socio-cultural landscape characteristic of the La Orotava Valley mid-elevations are recreated. The centre has a threshing floor, different detached houses, corrals with chickens and rabbits, an orchard with medicinal plants and characteristic houses made of straw, also known as 'pajares', traditional constructions that served as dwelling, now transformed into exhibition rooms. A meticulous reproduction of a traditional 'venta' (grocery) is another one of its contents of interest.
Two are the main thematic areas found in the centre. On the one hand, dealing with Pinolere history, which became the most important chestnut wood basketry centre of the Canaries, we can find the so-called 'Don Juan González Fariña' Canarian Basketry Museum, which occupies three of the straw houses, where the traditional use of vegetable fibres and the materials, tools and production processes used in this craft technique are shown in a didactic way.
On the other hand, we have the 'Don Francisco Luis Acosta' Pinolere History Museum, which occupies two detached buildings, dedicated now to preserve and to divulge the past of this locality. The 'Cueva de los Guanches' (Aboriginal Inhabitants Cave) archaeological complex complements this thematic area. The extensive and prolific activity developed by the Museum and the Pinolere Association has earned them important recognition for their research and dissemination efforts. It is a must for traditional Canarian culture lovers.
Every year, at the first weekend of September, the famous Pinolere Craft Fair takes place, organized by the Pinolere Cultural Association. This fair has become one of the most successful ones in the Canaries with tens of thousands of visitors in every edition.
Hours: 10:00a.m. – 2:00 p.m. from Tuesday to Sunday.
Address: Alzados Guanches street, Pinolere. La Orotava.
Phone: 922.32.69.24
(Off-hours visits can be arranged through the Facebook profile or phone number)
Prices: Adults € 2, children between 8 and 15 years old € 1 and children from 0 to 8 years old free of charge.