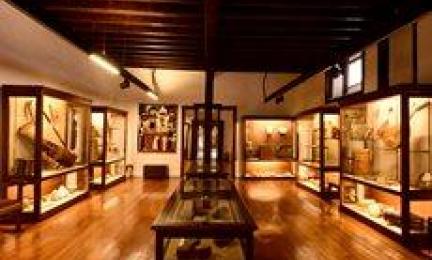 The Tenerife- MAIT Spanish-American Craft Museum has its headquarters in La Orotava, in the former San Benito Abad convent, run by the order of the Dominicans (now ex-convent of Santo Domingo), built in the seventeenth century. It is now run by the Tenerife Island Cabildo (Island local government).
In the eighteenth century, it became one of the most important convents in the province, due to the beauty of its facilities (the stone arch of the entrance, the cloister, the wooden ceilings and the stone staircase), which house part of the work created by the Canarian architect, sculptor and gilder, Antonio de Orbarán.
With the aim of making the craft reality known in an immediate and tangible way, a great permanent exhibition is created, representative of all Spanish-American handicrafts, both current and disappeared, with a special impact on the Canary Islands. Some of them come from important collections donated by sponsoring agencies, in addition to those acquired by the centre itself, as well as from private donations, boasting such attractive samples as the important collection 'Folk Art in America and the Philippines', 'The Design of Canarian Crafts Regional Awards', folk musical instruments of Spain and America or Spanish folk pottery.
Hours: Monday to Friday from 10:00 a.m. to 3:00 p.m. Saturdays from 10:30 a.m. to 1:30 p.m.
Address: Nº 34 Tomás Zerolo street. La Orotava.
Price: € 2 visitors, Free for Tenerife residents.
Phone: 922.32.81.60
(For more information: Facebook profile)