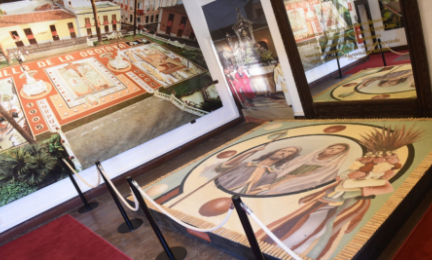 "TREASURES ON COBBLESTONES: DISCOVER THE SECRETS THAT OUR TOWN KEEPS, LET YOURSELF GET CARRIED AWAY BY YOUR SENSES, YOU WILL EXPERIENCE UNIQUE SENSATIONS"
All the peoples of the world have a sign that characterizes and defines them: In Villa de the Orotava we have our Ephemeral Tapestries. Located in the emblematic 'Casa de los Balcones' (House of the Balconies) (Jiménez Franchy, 1642), the Tapestry Museum exhibits, for the visitors that come to La Orotava, the ephemeral art that the tapestry artists dedicate to the Corpus Christi. In the month of May, the streets of La Orotava are filled with the smell of roasted heather, flowers, Mount Teide sands and tradition. But the rest of the year these are the sensations that flood the rooms of the museum, in which this ephemeral art is permanently displayed. More than 160 years of history are accommodated in a museum that is constantly evolving. In it you can find sketches of the first tapestries, historical documents, molds and design tools that give shape to a unique history of a tradition known worldwide.
Hours: Monday to Friday from 10:00 a.m. to 2:00 p.m.
Address: Number 5 San Francisco Street, La Orotava.
Price: €2 visitors, Tenerife residents for free.
For more information: alfombristasorotava@gmail.com