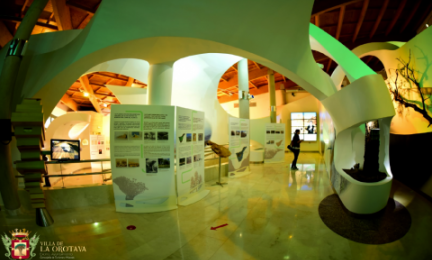 The 'Telesforo Bravo' Mount Teide National Park Visitor Centre is located in La Orotava El Mayorazgo urbanization (exit 34 of TF-5 motorway), where we can discover the biological, geological and ethnographic treasures of the Mount Teide National Park, following the steps of Alexander Von Humboldt, German naturalist, traveler and geographer. The National Park Administrative Centre is located in the same complex. The Centre has numerous information boards, screens, locutions, a real size reproduction of a volcanic tube, models, showcases and interactive elements. It also counts with an auditorium, where an eight minute audiovisual presentation about the National Park can be watched. It contains an exhibition in which the island of Tenerife is explored from two different perspectives: Geographically (from coast level to the summit) and historically (through the eyes of illustrious visitors). The whole centre has been adapted and is accessible to an audience with motor, visual or auditory deficiencies. The ramps facilitate access to the various levels and a signaling system facilitates the orientation of the visitor. It is undoubtedly a place that must be visited in order to get to know La Orotava, the island of Tenerife and the National Park.
The 'Juan Acosta Rodríguez' Tenerife native flora ornamental garden can be found next to the Visitor Centre. It was named after a La Orotava Town Council member, who promoted the declaration of the Mount Teide area as a National Park in 1917.
Access to the Visitor Centre is free.
Hours: from 9:00 a.m. to 2:00 p.m. and from 3:30 p.m. to 6:00 p.m. from Tuesday to Sunday.
Address: Number 25 Doctor Sixto Perera González Street, 38300 La Orotava.
For more information: 922.92.23.71